Joint Sigint Cyber Unit on GitHub
As of today the Joint Sigint Cyber Unit (JSCU) of the General Intelligence and Security Service (AIVD) and the Military Intelligence and Security Service (MIVD) of the Netherlands, is present on GitHub. GitHub is an international online platform for programmers to share and build source code together.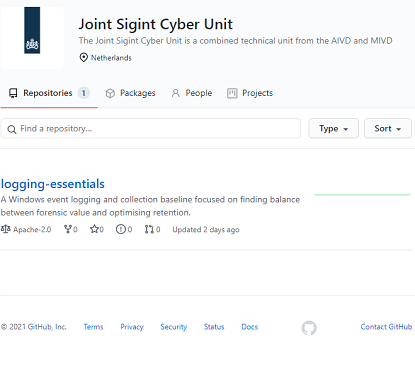 The AIVD and MIVD have introduced a baseline that provides a high(er) level of resilience to attacks by advanced state(-sponsored) actors.
This will enable organisations to detect attacks at an early stage. 
Basic configuration for Windows logging
The JSCU posted a basic configuration for logging within the Windows operating system to GitHub.
ICT specialists can use it to log events on Windows computers in their network so that it will be easier to independently detect malicious intent. Organisations can implement this basic configuration and carry out detection, either with or without the help of an external commercial party. The baseline is available to anyone and license-free.
Want to follow the JSCU on GitHub? Click here to visit the GitHub account.